Semilla Verde Boutique Hotel
Step into another world, the original Galapagos
We invite you to step into another world, the original Galapagos, the true and enchanting islands. And, to experience the wonders of a rural, forest lodge and life amongst the unique wildlife you came so far to see.
Giant tortoises lumber through our coffee plantations and bird life thrives in the forest canopy.
The location is secluded but very convenient for day tours and town visits, and very safe. There is not another residence within two hundred of meters.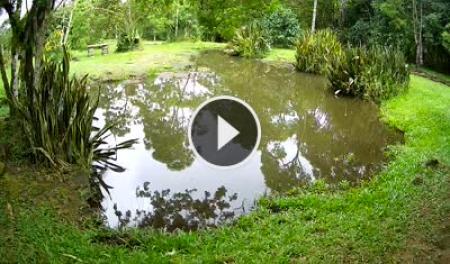 Semilla Verde remains true to the philosophy on which it originally built for good friends and family, ensuring a level of intimacy, personal service and home cooking your will only find in a traditional guesthouse. We have resisted the temptation to expand and thereby maintain a quality of life and optimum working conditions for our long term staff who share these ideals.
Our hotel & tour package options compliment your stay and will carry you on an amazing adventure to the most interesting outlying islands and local attractions with qualified naturalist guides, or via self guided activities.
You will taste first hand the beauty and awe of Galapagos and it's unique flora and fauna – from towering cactii and tiny Darwin finches, to diving marine iguanas and playful sea lions. From barren volcanic landscapes to lush cloud forests.
Return to the hotel at the end of an incomparable day and share your travel stories around the main dining table with other guests, whilst enjoying dinner freshly prepared in our kitchen. Or, you may choose to dine out in bustling Puerto Ayora, just 15 mins away in taxi.
But don't feel obliged to leave. With nine en suite bedrooms with A/C, three large lounge areas, private terraces, twelve acres of native forest with walking trails, and a fully equipped yoga studio, lunch & dinner menus on request, confidence bar, laundry service and WiFi, if your aim is to 'get away and stay away from it all' you have plenty of space and all the essential amenities you need to do so.
Galapagos is famous for it's volcanic landscapes and unique wildlife, but it can also be somewhere for you to rediscover your true and unique nature, somewhere you can feel yourself again.
Hotel & Tour Packages
Semilla Verde contracts local tour operators that offer half-day or day-long tours in small launches to the islands and attractions around Santa Cruz.
Bird watching and giant tortoises (in season)
Lunchtime and evening meals on request
Baby crib available a request
Baby sitting available a request
Airport transfer on request
Credit card (Visa & Mastercard)
Cattya Cubas Casana
Is Peruvian and was born in Trujillo. Ms. Cubas received a Bachelor degree in Hospitality and Tourism from Central Connecticut State University in 2003 and a Masters of Tourism Administration & Sustainable Tourism Management at George Washington University in 2013. Ms. Cubas has been the Hotel Manager of Semilla Verde since November 2016.
Robert & Daysi
Robert and Daysi met in the Galapagos Islands and transformed their quaint rural home into the boutique hotel that you see today. They have two children, Iona and Lochlan, who are British-Ecuadorian and bilingual. The family moved to Guayaquil in 2014 on mainland Ecuador for the education of the children. Robert administers and manages reservations from home and travels to the islands for a week to ten days every month.
Team Semilla Verde
Meet the SV Team! Gladys, Efren, Bertha and Zully are all Ecuadorians with origins in Galápagos or mainland Ecuador. They are all long term and loyal members of the team. They are also multi-taskers and you will see them in a variety of roles throughout your stay. This team is really the backbone of the Semilla Verde experience.